Profile
Profile
The Information Management Research Center (MagIC) is the research center of the Nova Information Management School (NOVA IMS), the School of Information Management and Data Science at the NOVA University of Lisbon, one of the most prestigious Portuguese public higher education institutions, where the mission is to serve society at local, regional and global levels, fostering the advancement and understanding between cultures, societies, and people, through the dissemination of knowledge through excellence in teaching, research, and services for the community. Based in Lisbon, MagIC has over 50 qualified scientists in the research team and focuses on using information to target the resolution of problems that affect organizations and society, with its activity largely supported by responsible and internationally relevant collaborative partnerships.
The MagIC team is structured around four research streams (RS) that support the alignment and collaboration between researchers:
In Information Systems, the emphasis is on understanding, at the individual and organizational level, what are the key drivers for the diffusion, adoption, and success of information technology artifacts;
In the context of Data Science, we look to continue to work on supervised learning algorithms both through the application of evolutionary strategies and data generation algorithms for imbalanced learning. We also emphasize geospatial applications, mainly in the context of smart cities.
In Geoinformatics, we are interested in contributing to the development of smart and open cities. Our work is centered on creating the tools and methods that allow for a more data-driven approach to city management as a way to promote a sustainable, safe and livable environment for their ever-increasing populations;
Finally, in Data-Driven Marketing, we have a twofold interest: a) applying theories and tools (e.g., SEM) to have a better understanding of human judgment and decision-making; b) understanding consumer processes in digital environments and underlying neural mechanisms for information processing and decision-making.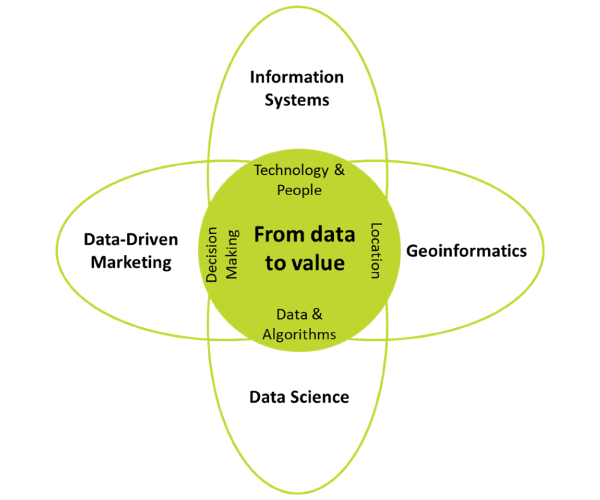 MagIC (Information Management Research Center) is focused on using information to develop individuals, and also improve organizations and society, in general. The principal objective is to contribute to the advance of the Information Management and Data Science fields. We are committed to improving information usage and reliability while developing tools and methods to promote data-driven decision-making.
Our contributions lie in finding ways to use information management and data science to improve productivity and sustainability through more informed data-driven decisions and fact-based decision-making. It is clear that technology's ability to capture and store data has not yet been matched by its ability to transform data into actionable and relevant information. We live in a data-rich environment, but the tools to make sense of all available data are still somewhat limited. Moreover, the dawn of big data will only make this problem/opportunity more apparent while presenting new and more formidable challenges. Recent developments have produced significant enthusiasm about how the meeting between big datasets and very powerful computers will change this state of affairs. MagIC researchers share the enthusiasm for this new and exciting field and are committed to helping shape information-rich environments as a transformative force for positive change in science and business. The ability to find insights into our data-intensive society translates into groundbreaking and smart solutions for pressing societal challenges.
As a research group, we are interested in studying information and the interaction of humans and organizations with information. MagIC has developed a wide range of expertise, with local and international partners who bring complementary know-how to our core competencies. We also seek to help develop a specialized workforce, supporting organizations making the most of their data and information resources. Through our research, we aim to inspire young talents to pursue a research career and become the leading data scientists and researchers of tomorrow.
MagIC's management structure comprises four main bodies: the Director, the Scientific Council, the Council of Integrated Researchers, and the External Advisory Board.
For example, in 2017/2019 over 21.5% of publications were published in the top 10% of most-cited journals worldwide. In 2021 alone, MagIC raised over €1.5M in competitive funding.