Rafael Wagner, NOVA IMS' Ph.D. student, awarded at EMAC
Rafael Wagner, NOVA IMS' Ph.D. student, awarded at EMAC
Detalhe da Notícia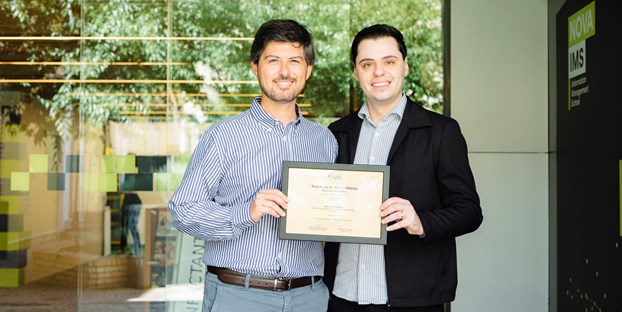 Rafael Wagner, a Ph.D. student at NOVA IMS, has been awarded with the Best Paper Based on a Doctoral Dissertation Award at the European Marketing Academy Conference (EMAC): "Overcoming Resistance to Medical Artificial Intelligence".
Rafael's dissertation aims to investigate aspects inherent to the acceptance or aversion to the use of artificial intelligence in services, from a consumer behavior perspective. On the other hand, potential interventions by service providers to reduce resistance to the use of Artificial Intelligence will also be analyzed.
The PhD student is being supervised by Professor Diego Costa Pinto and is currently one of the lab managers at the NOVA Marketing Analytics Lab.
EMAC is one of the most renowned marketing theory and research conferences in Europe. The Conference's mission is to advance the field of marketing by facilitating networking, promoting research, and promoting an international exchange of ideas. This year, the Conference took place in Odense, Denmark, from May 23th to 26th.
Rafael Wagner is currently a Ph.D student at NOVA Information Management School. He holds a master's degree in Marketing at IMED Business School (Brazil), a specialization degree in business management at Fundação Getúlio Vargas (Brazil), a specialization in business strategy at the Darden School of Business (University of Virginia, USA), and a bachelor degree at Universidade de Passo Fundo (Brazil).