DE-RISK organized its 1st General Assembly meeting at NOVA IMS
DE-RISK organized its 1st General Assembly meeting at NOVA IMS
Detalhe da Notícia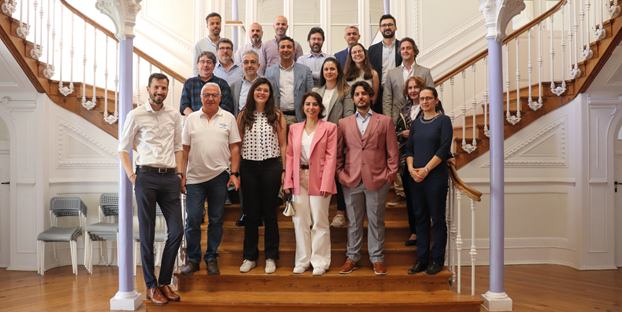 On April 26th and 27th, 2023, NOVA IMS hosted the first General Assembly of the EU-funded DE-RISK project, which focused on the adoption of local flexibility markets to unlock the safe and reliable mass deployment of renewable energy systems. At the General Assembly, representatives of all partner institutions discussed and monitored the expected deliverables and milestones for this stage of the project implementation.
Thank you to all project members for their efforts, results, cooperation, and contributions during the meeting. We can't wait to meet again and share the progress together!
DE-RISK aims at supporting the market uptake of renewable energy systems by fostering the adoption of Local Flexibility Markets and unlocking up to 100GW of flexibility in 2030 which will allow a safe and reliable integration of Renewable Energy Systems in the grid. DE-RISK will achieve this ambitious objective by minimizing the investments and implementation risk through an innovative customer behavior change journey that will increase end users' trust and willingness to participate in the flexibility markets. DE-RISK integrates building, citizen, and grid digital twins in its flexibility platform capable of reducing the gap between simulation and real implementation thus mitigating potential technical risks during the deployment and operational phase.
The project DE-RISK is funded by Grant No. 101075515 of the European Commission for a period of 36 months starting on October 1, 2022. The Project is coordinated by WEglobal Danışmanlık Anonim Şirketi (WG, Türkiye) with the partnership composed by: Que Technologies Kefalaiouchiki Etaireia (QUE, Greece), Troya Genç Çevre Derneği (TRO, Türkiye), Uludağ Elektrik Dağıtım Anonim Şirketi (UE, Türkiye), National University of Ireland Galway (NUI, Ireland), Universidade Nova De Lisboa (UNL, Portugal), My Energia Oner SL (MIW, Spain), R2M Solution Spain SL (R2M, Spain), Sofia Energy Agency Association (SEA, Bulgaria), Ecrowd Invest Plataforma De Financiacion Participativa SL (EC, Spain) and Gridpocket SAS (GP, France).
For more information about the DE-RISK project, visit the website https://deriskproject.eu/ and its social media channels on Facebook, Twitter, LinkedIn, and Instagram.